Welcome to the modern entrepreneur's toolkit. This comprehensive guide is designed to equip today's business enthusiasts with the insights and strategies required to navigate the digital landscape successfully and apply Artificial Intelligence in Business.
From crafting a strategic business and marketing plan to fostering an energized team culture, we delve into the heart of what it takes to build a thriving venture. We spotlight how artificial intelligence in business and automation by AI tools can transform your operations, magnifying efficiency and profitability.
This is your shortcut to understanding how AI tools for business and modern tech can become your allies in entrepreneurship. Whether you're laying the foundations of a startup or seeking to amplify your existing operations, this guide offers the forward-thinking approach you need to stay ahead of the curve.
An Entrepreneur's guide on leveraging ChatGPT for Business and craft useful prompts
Crafting a Winning Strategy: Use Artificial Intelligence in business to find your edge
Prompt 1: You are a seasoned business consultant with expertise in sales, marketing and improving efficiency in the sales department while driving consistent growth and have the ability to increase business profitability. Expertise is focused on B2B sales model through different channels. So I will give you a fictional case study of a medium sized business that is losing revenue due to the poor company culture and de motivated sales team. I would like you to help me craft a B2B Sales and Marketing strategy and how they can use AI to increase their profits. The niche is: Selling business and legal consulting services (legal, accounting, company incorporation, restructuring, etc.) in the Middle East (UAE and Saudi Arabia). Do you understand?
Absolutely, I understand the scenario you've laid out. It's a complex challenge that needs a comprehensive strategy that focuses on improving the company culture, motivating the sales team, and integrating AI tools for business to boost profits. Here's a multi-faceted approach to address this:

Step 1: Company Culture & Sales Team Motivation

The first and foremost step is to address the root cause, i.e., the poor company culture and de-motivated sales team. This can be done in the following ways:

Identify the Issues: Conduct a confidential survey or series of interviews to understand the key issues affecting the sales team's motivation and the overall company culture.
Promote Open Communication: Establish regular meetings where employees are encouraged to discuss their concerns and provide ideas for improvement.
Recognize & Reward: Implement an incentive program that rewards top performers for achieving their sales targets. These rewards could range from financial bonuses to career development opportunities.
Sales Training: Conduct regular training sessions to improve sales skills and product knowledge. This will instill confidence in the sales team and make them more effective.

Step 2: B2B Sales and Marketing Strategy

Customer Segmentation: Analyze your target market and segment it based on the size of the business, industry, and specific needs.
Value Proposition: Highlight the unique value proposition of your services – why businesses should choose you for legal, accounting, company incorporation, etc.
Account-Based Marketing (ABM): Use an ABM approach, targeting key businesses with personalized campaigns. This will make your marketing efforts more efficient and effective.
Networking & Partnerships: Strengthen your network by participating in industry events, forums, and webinars. Consider forming strategic partnerships with complementary businesses to enhance your service offering.

Step 3: Integrating AI for Efficiency & Profitability

AI in Lead Generation: Use AI-powered tools for lead generation and scoring. They can help identify potential clients from a vast pool of data, prioritize them based on likelihood to convert, and provide insights for personalized communication.
AI in Sales Process: Implement an AI-driven Customer Relationship Management (CRM) system that tracks all customer interactions, predicts customer behavior, suggests the best time to contact clients, and recommends cross-selling and upselling opportunities.
AI in Marketing: Utilize AI tools for programmatic advertising, content curation, and marketing automation. This will increase the effectiveness of your marketing efforts, free up time for strategic tasks, and help you reach your target audience more precisely.
AI in Customer Service: Implement AI chatbots for 24/7 customer support. They can handle routine inquiries, freeing up your team to handle more complex issues and improve customer satisfaction.

In summary, by improving the company culture and sales team motivation, crafting a targeted B2B sales and marketing strategy, and leveraging AI tools for business in key areas, you can turn around the performance of the business and increase its profitability in the UAE and Saudi Arabian markets.
Prompt 2: Provide a step by step guide for sub section step 2
Step 2: B2B Sales and Marketing Strategy

Customer Segmentation:

Identify your target market.
Segment it into smaller groups based on specific criteria like size, industry, specific needs, or growth potential.
Create buyer personas for each segment to understand their pain points, preferences, and decision-making processes.

Value Proposition:

Identify what makes your services unique and why businesses should choose you.
Communicate your value proposition clearly in all your marketing materials, pitches, and sales conversations.

Account-Based Marketing (ABM):

Identify key businesses that you want to target.
Gather detailed information about these businesses and their key decision-makers.
Create personalized marketing campaigns for each target, focusing on their specific needs and interests.
Measure the response and adjust your approach as needed.

Networking & Partnerships:

Identify relevant industry events, forums, and webinars and ensure your presence there.
Actively network and establish connections with other businesses.
Identify complementary businesses and propose strategic partnerships to enhance your service offerings.

Each step should be approached with a clear understanding of your business goals, available resources, and the specific characteristics of the UAE and Saudi Arabian markets. Also, remember to measure your performance regularly and adjust your strategies based on the results to achieve the best outcomes. Artificial Intelligence in business can offer you the edge of being competitive and grow fast in new markets by leveraging powerful, cost effective AI Tools for business that your competitors might not be aware of.
Explore ChatGPT Prompt Engineering to create marketing plans, craft emails, social media content and much more
Prompt 3: Write a comprehensive marketing plan (Inbound and Outbound) for this business case, given the pain points of the company.
Inbound Marketing Plan

Inbound marketing focuses on attracting customers by creating valuable content and experiences tailored to them.

1. Content Marketing

Develop an informative and engaging blog that regularly publishes articles related to your services like legal consulting, accounting, company incorporation, restructuring, etc. Make sure that the content is optimized for SEO.
Use the power of storytelling to demonstrate how your services have helped other businesses. Publish case studies and success stories.

2. Social Media

Maintain an active presence on LinkedIn and Twitter to reach businesses effectively. Share your blog posts, case studies, and industry news to engage your audience.
Join relevant groups and participate in discussions, sharing your expertise and subtly promoting your services.

3. Webinars and Podcasts

Host webinars and podcasts where you discuss various topics related to your services. Invite industry experts as guests to attract a wider audience.

4. SEO and Local Search

Optimize your website for search engines to attract organic traffic. Use keywords related to your services and the regions you serve (UAE and Saudi Arabia).
Register your business on Google My Business and other relevant local directories.

5. Email Marketing

Develop a newsletter to share your blog posts, case studies, and news about your services.
Segment your email list to deliver more targeted content.

Outbound Marketing Plan

Outbound marketing involves reaching out to potential customers through direct communication channels.

1. Direct Email Campaigns

Identify businesses that might need your services. Use your segmented email list to deliver personalized messages explaining how you can help them.

2. Cold Calling

Use this traditional method cautiously and professionally, aiming to offer value and build relationships rather than push for immediate sales.

3. Paid Advertising

Use Google Ads and LinkedIn Ads to target businesses that could benefit from your services. Use remarketing campaigns to reach people who have visited your website but not converted.

4. Account-Based Marketing (ABM)

Identify key businesses that are likely to bring high-value contracts.
Develop personalized marketing campaigns aimed at these businesses, leveraging email, direct mail, social media, and other channels.

5. Trade Shows and Conferences

Attend industry trade shows and conferences, making connections and demonstrating your expertise.
Offer workshops or speaking engagements to educate attendees about your services and how they solve common business problems.

6. Partnerships and Sponsorships

Partner with other businesses that offer complementary services to reach a wider audience.
Sponsor local business events to improve your brand visibility.

For both inbound and outbound marketing, remember to track your performance metrics regularly. Adjust your strategies based on what's working best and where improvements can be made. A/B testing can also be useful in optimizing your marketing messages and strategies. Try different AI Tools for business in order to find the perfect fit for your marketing campaigns and leverage the power of ChatGPT for business to get further guidance – see it as your personal business consultant.
Prompt 4: Craft a compelling email that could be used for cold email marketing strategy. Let's call the case study company "Lawyers & Consultants LLC"
Subject: Unlock Your Business's Full Potential with Lawyers & Consultants LLC

Dear [Recipient's Name],

I hope this message finds you well.

My name is [Your Name], and I represent Lawyers & Consultants LLC, a seasoned consultancy firm that specializes in legal, accounting, company incorporation, restructuring, and a wide array of other business services.

We understand that navigating the business landscape, especially in the Middle East, can be daunting. As every business is unique, we provide bespoke solutions tailored to your company's specific needs and challenges, ensuring you can focus on what matters the most: your growth and success.

With our team's collective expertise spanning decades, we've successfully partnered with businesses across various sectors in UAE and Saudi Arabia, helping them to streamline their operations, mitigate risks, and boost profitability.

I am reaching out because we believe that [Recipient's Company] has an immense growth potential and we can help you unlock it. Our services can provide you with the legal and financial acumen you need to make informed decisions, reduce your overhead costs, and improve your bottom line.

I'd like to propose a no-obligation, complimentary consultation where we can explore your business challenges and how our tailored solutions can add value. If this is of interest, please let me know a suitable time for you over the coming week, and I'll arrange a call accordingly.

In the meantime, please feel free to visit our website [website link] to explore our comprehensive services and learn more about how we've assisted businesses similar to yours.

Thank you for considering this opportunity. I look forward to the possibility of working together and supporting [Recipient's Company] in reaching new heights.

Best regards,

[Your Name]

[Your Position]

Lawyers & Consultants LLC

[Your Contact Information]
Prompt 5: Create a LinkedIn Outreach message for new connections, crafted for your sales team to use
Subject: An Opportunity for Mutual Growth

Hello [Recipient's Name],

I trust you're doing well. My name is [Your Name], and I work with Lawyers & Consultants LLC, a leading provider of legal, accounting, and business consulting services, helping businesses unlock their full potential across the UAE and Saudi Arabia.

I came across your profile here on LinkedIn, and your wealth of experience in the [Recipient's industry] industry stood out to me. I believe there may be significant synergies and potential for mutual growth between our organizations, and I'd love to explore this further.

Our firm is uniquely positioned to assist businesses navigate complex legal and financial landscapes, reduce overhead costs, and improve operational efficiency. I would welcome the opportunity to discuss how our tailored solutions might be able to support [Recipient's Company] in achieving its objectives.

Would you be open to a brief call or virtual meeting in the coming weeks to discuss this possibility? Alternatively, you can learn more about us and the clients we've helped on our website [website link].

Thank you for considering my request, [Recipient's Name]. I look forward to hopefully connecting soon.

Best regards,

[Your Name] [Your Position]
Prompt 6: Create a script that could be used effectively for cold calling in this industry
(Begin call)

Sales Representative: Hello, is this [Prospect's Name]?

Prospect: Yes, speaking.

Sales Representative: Hi [Prospect's Name], my name is [Your Name] and I'm calling from Lawyers & Consultants LLC. How are you today?

(Wait for their response.)

Sales Representative: That's good to hear. I promise to take just a few minutes of your time. The reason for my call is that we specialize in providing legal, accounting, and business consulting services for businesses in the Middle East. We help companies streamline their operations, navigate legal and financial complexities, and enhance profitability.

I came across your company, [Prospect's Company], and based on your current operations and industry, I believe we could bring significant value to your business. Would you be interested in exploring how we could potentially work together?

(If they show interest)

Sales Representative: That's great! Could we schedule a brief meeting to understand your specific needs and challenges, and discuss how our tailored solutions could benefit [Prospect's Company]?

(If they show hesitation or decline)

Sales Representative: I understand, and I appreciate your time, [Prospect's Name]. If you ever need support with legal, accounting, or business consulting services, feel free to reach out to us. Can I send you some more information about our services via email for your reference?

(End of the call)

Remember, a successful cold calling script is often not entirely scripted. It should act as a guideline that the sales representative can adapt based on the prospect's responses. Active listening, empathy, and flexibility are key elements of effective cold calling. Use ChatGPT Prompt Engineering to perfect your scripts by giving it more context and details about your products and services.
Prompt 7: Please provide a table with all the key points that a business in the legal/ consulting niche should include in their competitor analysis.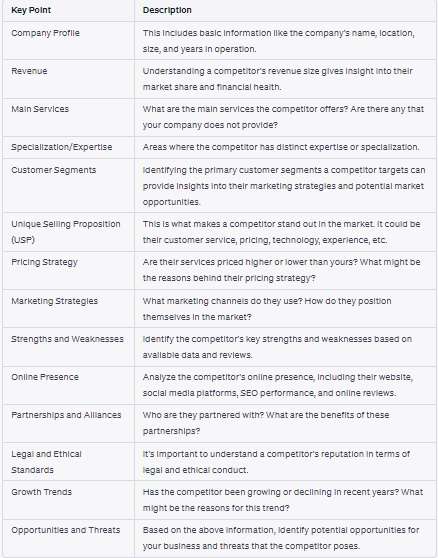 Learn how to use AI for Business with powerful Artificial Intelligence driven solutions
Prompt 8: Let's develop a more comprehensive AI Implementation strategy as we changing this venture, when it comes to marketing and operations. We will use WriteSonic for copywriting (ads, creatives, website content). Surfer SEO for SEO Optimization on the newly created website. We will implement SalesForce & Salesforce Einstein for further AI Optimization within the CRM software. Additionally, to automate and combine all data across social media messaging in one place, we can use BotSheets to record the data in an excel file which would be automatically uploaded to SalesForce CRM.
Great choices! Each of these AI tools for business can significantly enhance your operations and marketing efforts. Here's a step-by-step strategy on how to implement them:

1. Content Generation – WriteSonic and QuillBot

Start by identifying your content needs: website copy, ad copy, blog posts, social media content, etc.
Use Quillbot or WriteSonic's AI-based tools to generate initial drafts of these content pieces. Remember to provide the tool with enough context about your services, audience, and goals to get the most accurate results.
Review and refine the generated content to align it with your brand voice and specific message. While AI is impressive, human review is crucial to ensure coherence, accuracy, and overall quality.

2. SEO – Surfer SEO

Start with keyword research to understand what your potential customers are searching for.
Use Surfer SEO to optimize your website's content (produced by WriteSonic) around these keywords. This includes things like metadata, headings, and keyword density.
Use Surfer SEO's SERP Analyzer to analyze the top-ranking pages for your target keywords and understand what makes them successful. Implement these insights into your own SEO strategy.
Continually monitor your site's performance and adjust your strategy as needed.

3. CRM and AI Optimization – Salesforce & Salesforce Einstein

Set up Salesforce as your CRM to manage customer data, interactions, and sales processes.
Utilize Salesforce Einstein to get AI-driven insights on your customers, predict outcomes, automate tasks, and recommend next steps. Train Einstein to accurately predict and classify data based on your business needs.
Use the AI for personalized marketing. For example, use predictive scoring to identify prospects who are most likely to convert, and then target them with personalized marketing campaigns.
Implement AI in sales forecasting to get reliable predictions of your sales revenues.

4. Social Media Data Management – BotSheets

Connect BotSheet with your social media platforms to collect and record data from your social media messages.
Use the tool to organize and analyze the data to gain insights about your audience's interests, sentiment, and common questions or concerns.
Integrate BotSheet with Salesforce to automatically upload this data to your CRM. This will give you a more complete picture of your audience, which can inform your sales and marketing strategies.

5. Ongoing Review and Refinement

Continually review the performance of these tools and adjust your strategies as necessary. This might involve changing your content strategy, focusing on different SEO keywords, or refining your CRM processes.
Regularly training and fine-tuning your AI tools, particularly Salesforce Einstein, is key to ensuring they remain accurate and effective.

Remember that while AI tools for business can provide valuable support and automation, it's essential to maintain a human touch in your interactions with customers. Use these tools to enhance your capabilities, but don't lose sight of the personal connections that build trust and loyalty with your clients.
Prompt 9: Now, let's look into using AI Tools to build a stellar sales team. Use Dux Soup or Lemslist to automate your LinkedIn Outreach (Set up drip campaigns, automate connection requests and send personalized messages based on the buyer personas of your choice). Monitor your Sales Team success and identify challenges and feedback via MeetRecord, an AI Tool that would record meeting notes and provide AI Generated feedback and action plans on your sales meeting performance. Use Poised AI in order to receive real-time feedback on your communication skills during Video Calls.
Absolutely. Implementing AI tools can drastically improve the efficiency and effectiveness of your sales team. Let's break down how you can utilize Dux Soup, Lemlist, MeetRecord, and Poised AI:

1. LinkedIn Outreach – Dux Soup or Lemlist

Define clear buyer personas. Understand who your ideal customers are in terms of industry, job role, company size, etc.
Set up drip campaigns on Dux Soup or Lemlist to automate connection requests to these personas on LinkedIn. Customize the messages to address the particular pain points and interests of each persona.
Automate follow-up messages to keep your prospects engaged. Remember to provide value in each interaction, rather than just promoting your services.
Monitor your campaign results. Test different approaches and adjust your strategy based on which messages get the most responses.

2. Sales Meeting Analysis – MeetRecord

Record all sales meetings using MeetRecord. This includes both internal team meetings and meetings with prospects or clients.
Use MeetRecord's AI to analyze these meetings. It will automatically generate meeting notes, highlight important points, and suggest action items.
Use this AI-generated feedback to identify areas where your team is performing well and areas where they could improve. This might be in terms of communication, negotiation, problem-solving, or understanding customer needs.
Implement action plans based on this feedback. This could involve additional training, changes to your sales process, or individual coaching for team members.

3. Communication Skills Training – Poised AI

Use Poised AI during video calls to receive real-time feedback on your communication skills. This includes things like speech clarity, filler words, tone of voice, and listening skills.
Encourage all team members to use Poised AI during their calls. This will help them to become more aware of their communication habits and work on areas of improvement.
Review the feedback after each call and set goals for improvement. This will help your team members to continuously improve their communication skills, which is crucial for successful sales.

By using these AI tools, you can automate routine tasks, gain valuable insights, and continually improve your team's skills. Just remember that AI is a tool to enhance your team's capabilities, not replace the human touch that is essential for building strong relationships with customers.
Prompt 10: Let's look at other tools that can improve internal processes and help to streamline your company success: 1. Taskade – AI Powered project management tool that can create automatically task lists for different projects, collaborative functions and cloud data storage. 2. Scribe – Create business documentation and SOP's within your organization with AI, which will save you time and resources. 3. Podcastle – If you decide to use Podcasts to discuss relevant legal issues and use it as a marketing tool for your business, Podcastle is an All-in-one solution for podcast editing and recording. 4. Beautiful.ai & Canva.AI – AI powered Design tool that can easy, cheap and fast create stunning presentations for your clients, shareholders meetings or your staff meetings. Canva.AI is the tool of choice for creating marketing materials, social media covers, leaflets or brochures.
Absolutely, these tools can definitely bring efficiencies in your organization. Here's how you can utilize each of these:

1. Project Management – Taskade

Use Taskade to manage your projects and tasks. Its AI capabilities can help create task lists automatically for different projects based on your past patterns and behaviors.
It also allows team collaboration, so you can assign tasks to team members, set due dates, and track progress all in one place.
Its cloud storage capabilities will ensure that all your data is backed up and can be accessed from anywhere.

2. Documentation – Scribe

Scribe can be utilized to create business documentation and Standard Operating Procedures (SOPs) using AI, saving your time and resources.
You can document your workflows and processes, which can then be shared across your organization, leading to consistency in operations.
It also helps in easy retrieval of documents whenever needed.

3. Podcasting – Podcastle

If you are considering podcasts as a part of your content marketing strategy, Podcastle can be a great tool for recording and editing.
You can discuss relevant legal issues, changes in regulations, or any topic that would be of interest to your audience.
This can be a good way to establish your firm as a thought leader in your industry.

4. Presentations and Marketing Materials – Beautiful.ai & Canva.AI

Beautiful.ai is a design tool powered by AI that can be used to create professional presentations for clients, shareholders, and staff meetings. It automates the design process making it easy to create visually appealing presentations.
Canva.AI can be used for creating marketing materials like social media covers, leaflets, brochures, and more. It simplifies the design process, even for those who don't have a background in design.
Both tools can save you a lot of time and money in design and help ensure a consistent visual identity for your firm.

Overall, by automating and enhancing these tasks with AI, your firm can improve efficiency, consistency, and quality, and your team can focus more on their core responsibilities and creative problem solving.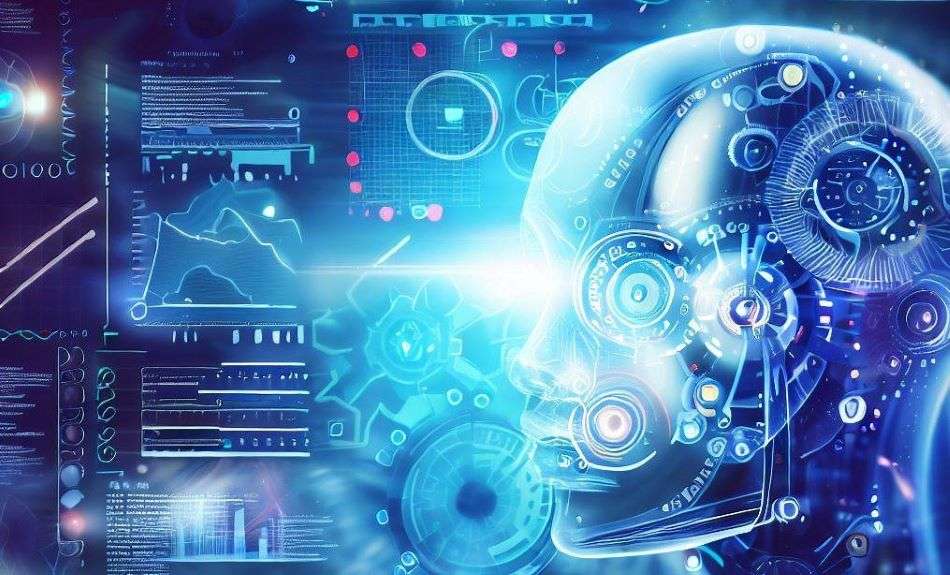 Navigating the ever-changing landscape of entrepreneurship is a daunting task. However, as we've explored in this guide, the effective use of Artificial Intelligence in business and cutting-edge AI tools for business can greatly enhance your company operations, from marketing to project management.
By integrating these strategies and learn the art of ChatGPT Prompt engineering, startups and established businesses alike can optimize their efficiency, foster a more vibrant company culture, and drive profitability. Remember, the marriage of traditional business acumen and modern technology is not just an advantage, it's essential in today's digital age. Embrace the future, and let these innovative solutions propel your business towards sustainable success.