AI powered tools are revolutionizing the digital landscape. Here are 13 of the best ChatGPT plugins to maximize the benefits of ChatGPT.
Step into a world of endless possibilities with ChatGPT plugins. Explore a universe of innovation and customization, transforming ordinary conversations into extraordinary adventures. Get ready to be amazed as we unveil the top ChatGPT plugins, opening new doors of creativity and efficiency. Join us on this exciting journey and unleash the true power of AI-driven conversations. Let's dive in!
1. Prompt Perfect: Crafting Precise Prompts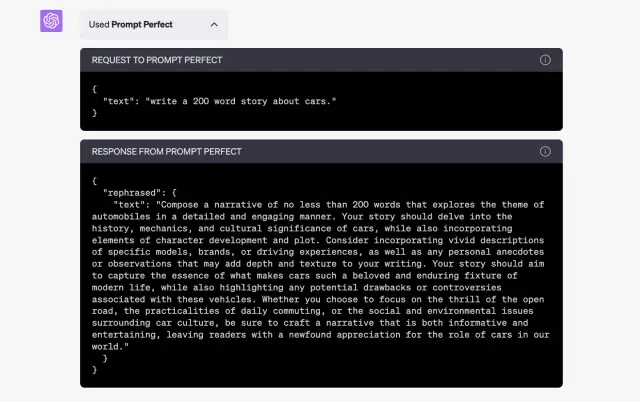 The Prompt Perfect plugin stands tall as one of the best ChatGPT extensions. It allows users to compose apt prompts for the AI chatbot, enhancing the specificity and relevancy of the responses generated by the bot. The plugin operates in the background, transforming your prompts into highly detailed questions that help ChatGPT generate more informative and precise answers. As a result, even those who struggle to come up with effective prompts can benefit significantly from this plug-and-play extension.
2. OpenTable: Streamlining Restaurant Reservations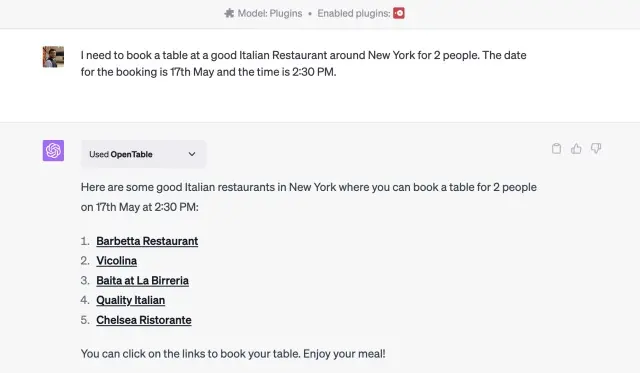 OpenTable is another noteworthy ChatGPT plugin that facilitates swift and effortless restaurant reservations. Users merely need to provide essential details, such as the date, time, location, and number of people. The plugin then leverages this information to locate suitable restaurants, generating links that lead to reservation pages with pre-filled details. This feature makes OpenTable an ideal solution for hassle-free restaurant bookings.
3. Wolfram: Advanced Computation and Real-Time Data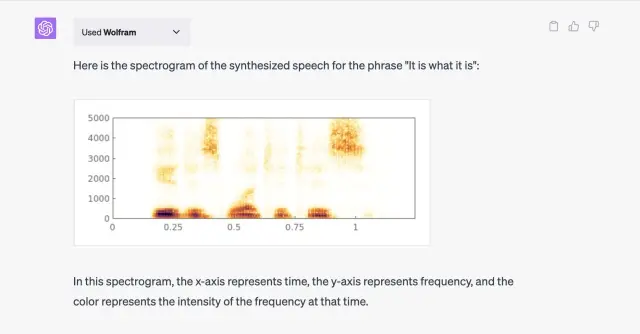 Capable of executing advanced computations and providing real-time data, the Wolfram plugin is an excellent tool for users seeking more than just basic functionalities. Wolfram can handle a wide range of tasks, from creating a genealogical tree and audio spectrogram to illustrating anatomy and providing real-time updates on the date and time, a feature that ChatGPT lacks. Its diverse capabilities make it a top choice for users keen on exploring the full potential of ChatGPT.
4. Link Reader: Quick and Detailed Web Content Summarization
Link Reader is an ideal plugin for users seeking quick content summaries without the need to browse through entire webpages. This plugin can extract and present the content of various types of links, including webpages, PDFs, and images. All one needs to do is provide the link, and Link Reader, in conjunction with ChatGPT, offers a detailed answer to the query, making it a go-to tool for quick content summarization.
5. Stories: Unleashing Your Creative Side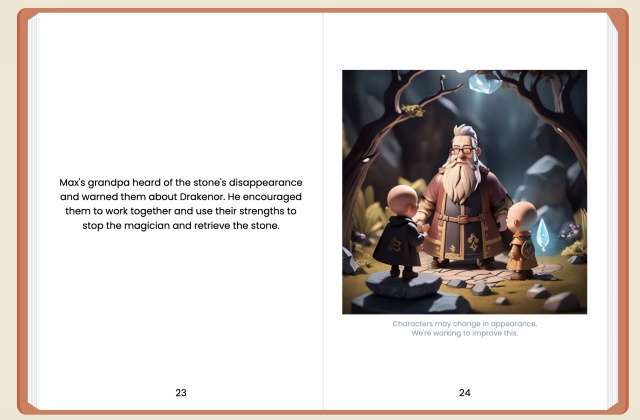 For those who love to dabble in creative writing, the Stories plugin is a perfect choice. This innovative plugin helps you craft your own stories, with a simple prompt serving as the basis. The resulting story, complete with AI-generated images, is presented in a vintage-style book, giving users a unique and interactive storytelling experience. Despite its creative focus, the Stories plugin provides an exciting avenue for users to explore their artistic side.
6. Speak: Your Personal Language Tutor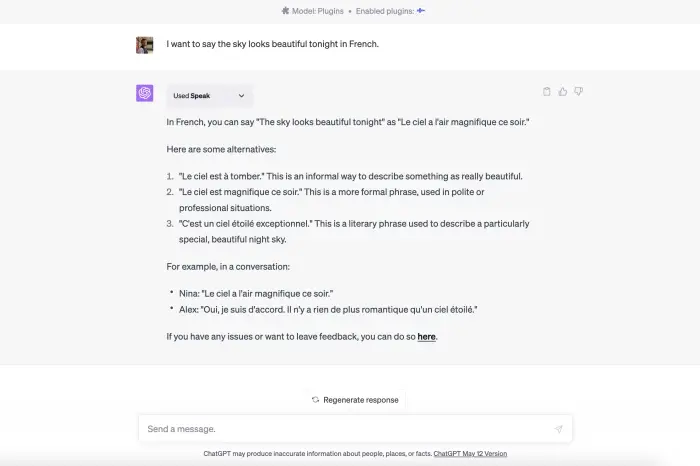 For language enthusiasts, the Speak plugin is a game-changer. As implied by its name, Speak enables users to learn how to articulate phrases in different languages, acting as a personal language tutor. Users can leverage Speak to learn verb conjugations, nuanced grammar, and much more, making it an invaluable tool for those keen on mastering new languages.
7. There's an AI For That: A Comprehensive Tool Database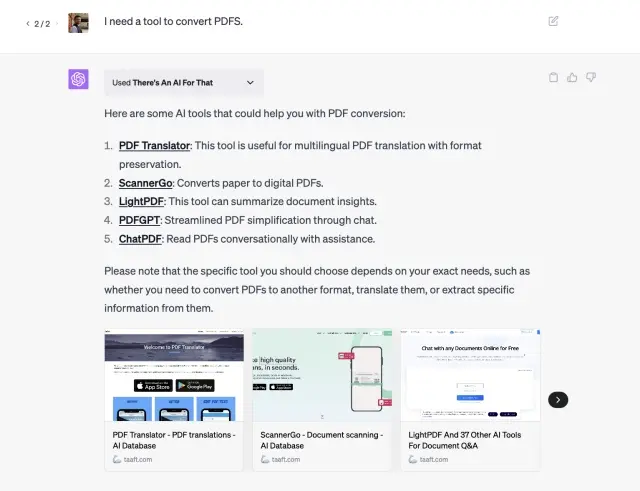 There's an AI For That distinguishes itself as a plugin that houses a vast database of various tools that users may need in their professional and personal lives. Users can find simple tools like image editors and PDF converters, among others. By simply stating their exact requirement, users can access a handy list of tools to fulfill their needs, making this plugin a one-stop solution for various tasks.
8. Instacart: Your Personal Recipe and Ingredient Finder

For food lovers, Instacart is the perfect plugin. It not only suggests food and drink recipes but also provides a detailed step-by-step guide to prepare them. What sets it apart is its ability to lead users to its main service page, where they can purchase the ingredients required for the recipe in real-time. With its swift and error-free recipe and ingredient generation, Instacart is a boon for food enthusiasts.
9. Show Me: Real-Time Diagram Generator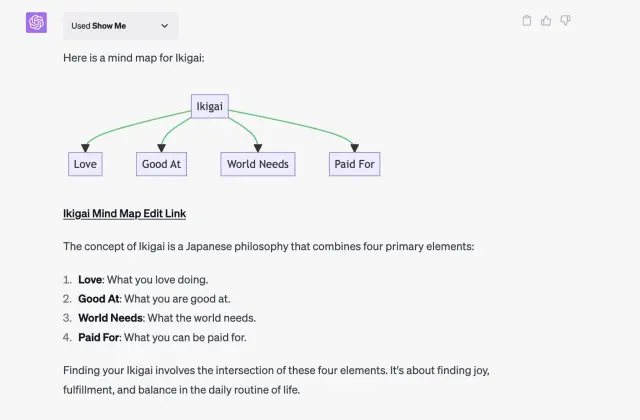 Show Me is a handy plugin that enables ChatGPT to create diagrams in real-time. Users provide a basic concept, and Show Me generates a visual representation of the concept, supplemented by a text-based explanation. This plugin is a valuable tool for users seeking to generate diagrams quickly and efficiently.
10. Questmate Forms: Streamlining Infographic and Form Creation
For those engaged in creating infographics and forms, Questmate Forms is a superb plugin. This tool can generate a wide variety of forms quickly and efficiently, saving users the hassle of using more complex tools like Google Forms. Users provide their exact requirements, and the plugin interfaces with ChatGPT to produce a detailed form accessible in a separate window.
11. Image Editor: Basic Image Editing at Your Fingertips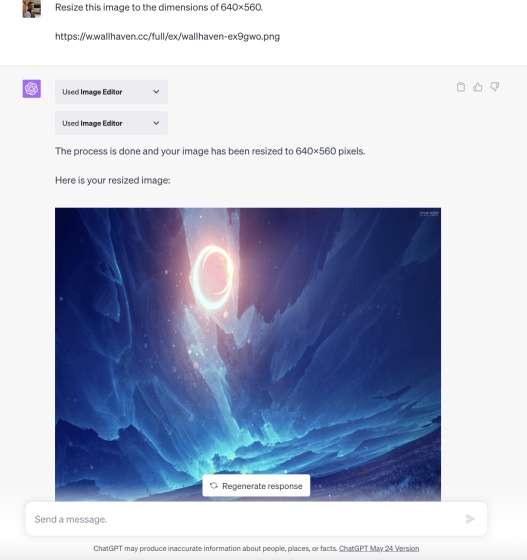 The Image Editor plugin simplifies basic image editing tasks, eliminating the need for complex software like Photoshop. This tool can perform functions like resizing, cropping, blurring, and rotating images. Users provide the URL of the image, and the plugin executes the requested edits swiftly and efficiently.
12. LikeWise: Discovering Podcasts Tailored to Your Preferences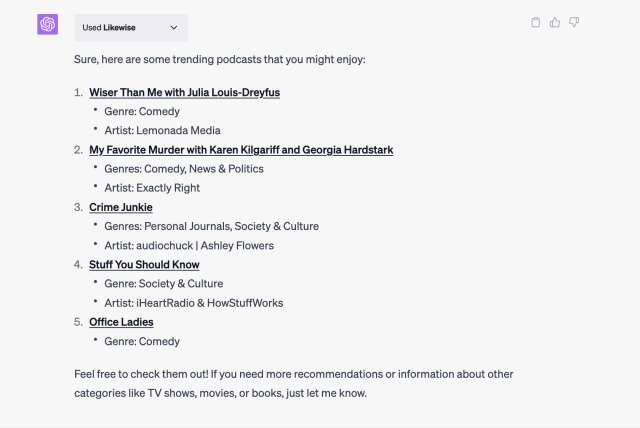 LikeWise is a valuable plugin for podcast enthusiasts, helping users discover podcasts tailored to their tastes. The plugin generates a list of potential podcasts based on user preferences, providing links for easy access. Although some podcasts might require a subscription, LikeWise is a handy tool for those seeking new podcast recommendations.
13. Meme Generator: For the Love of Memes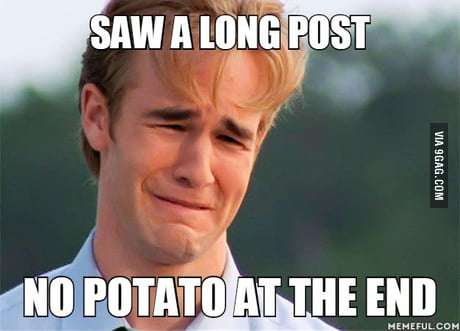 Last but not least, the Meme Generator plugin is a must-have for meme enthusiasts. It generates a variety of memes based on any topic provided by the user. The plugin uses its own meme directory to source images and captions, resulting in a unique meme for every request.
With the right plugins, your ChatGPT experience can be dramatically enhanced. Whether you're a professional seeking efficiency, a food enthusiast looking for recipes, a language learner seeking a tutor, or a meme lover looking for a laugh, there's a ChatGPT plugin for you. Give these a try and elevate your AI chatbot experience to new heights.