Surfer SEO Review: AI-powered on-page SEO tool for website owners & content creators. Improve your online presence & drive traffic with features like content editor, keyword research, and SERP analyzer. Our review covers the pros, cons, and FAQs to help you make an informed decision
In this Surfer SEO review, we'll delve into the features that make it a comprehensive AI SEO tool for content creators and website owners looking to optimize their website content for better search engine rankings.
Surfer SEO: The Game-Changer among AI SEO Tools
Surfer SEO is a comprehensive on-page AI SEO tool that helps content creators and website owners to optimize their website content for better search engine rankings. It offers a range of features such as content editor, keyword research, SERP analyzer, and more. In this article, we've reviewed some of the top pros and cons of Surfer SEO, as well as provided answers to frequently asked questions about the tool. Whether you're a freelance writer, blogger, or business owner, Surfer SEO can help you improve your online presence and drive more traffic to your website.
How Surfer SEO's AI-Powered On-Page Optimization Boosts Your Website's Rankings
AI SEO in action: Analyze and Compare Your Web Pages with the Current SERP Rankings
Surfer SEO is a cloud-based tool designed for on-page optimization that enables you to compare and analyze your web pages against the current SERP rankings. This data-driven analysis eliminates the need for guesswork and enables you to identify missing elements from your web pages, content strategy, and overall site.
Using the power of AI SEO to analyze over 500 On-Page Signals for Optimally Ranked Content
The tool analyzes over 500 on-page signals, including meta titles, TF-IDF, alt tags, NLP, LSI, among others, making it an ideal solution for creating and optimizing SEO content. It provides reliable data-driven insights that can help you achieve higher SERP rankings. In addition, Surfer SEO features a keyword research module that, although not as reliable as other tools like Ahrefs and Semrush, is still robust.
How SEO Surfer Knows What Search Engines Want to See
For all queries, SERPS, and pages that you want to analyze, Surfer SEO studies the top pages ranking. Surfer SEO will look at these results and identify on-page SEO metrics like main and sub keywords usage, LSI/NLP/TF-IDF keywords, meta tags (meta description, schema, etc.), media elements, incoming backlinks, word count, outgoing external and internal links, and headline structure. With these metrics, Surfer SEO can build a pretty useful model of what search engines want to see on a specific query – the AI SEO tool you need to outrank your competition.
Is Surfer SEO the most powerful AI SEO Tool? Let's take a deep dive into what it has to offer:
From Struggling to Top Three: Surfer SEO Content Editor is a Game Changer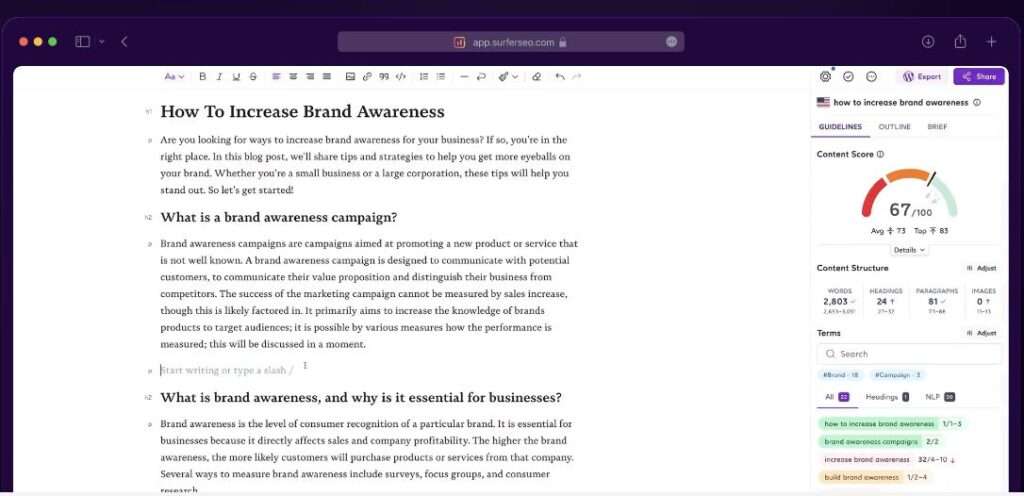 Surfer SEO's content editor is its standout feature, capable of improving your on-page optimization to the point where your page may jump from the 20th spot to the top three without the need for backlink building. In this review, we will focus on the content editor and its success, while also covering Surfer's other features.
The content editor is straightforward to use. You select a keyword or multiple keywords, and Surfer will scrape and analyze the top search results, allowing you to create a new article. The editor provides a rich text interface and comprehensive suggestions on the right-hand side. A content score is given, comparing your content's Google-friendliness to that of other SERP entries. It also offers formatting recommendations, including word count and image use.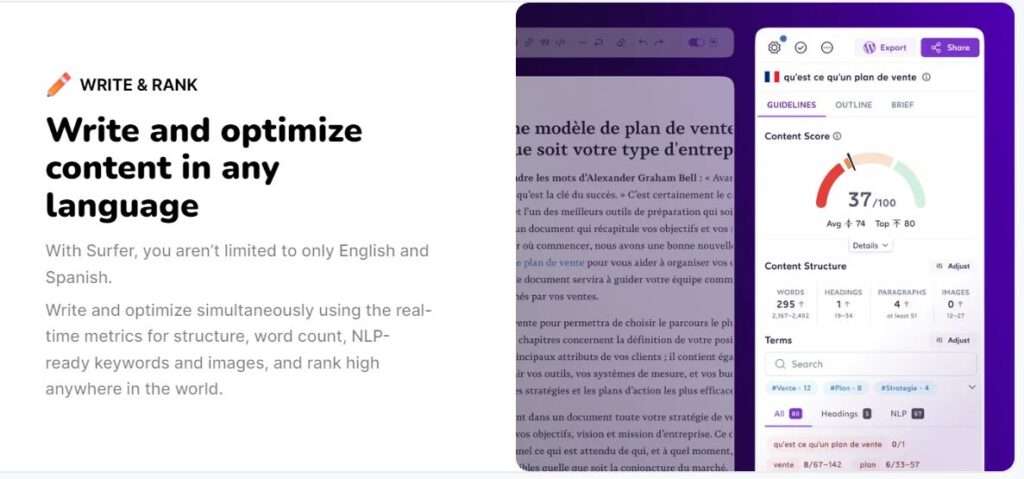 Pro Tip: While the suggestions are valuable guidelines, they are not strict rules, and Surfer's scraper sometimes includes irrelevant elements when calculating word count.
Furthermore, Surfer provides unique keyword recommendations and tracks keyword usage, alerting you when a keyword has been used enough times. It even offers in-text usage suggestions, although some of these recommendations are grammatically incorrect.
In addition to the content editor, Surfer offers an Outline and a Brief tab. The Outline builder uses AI to create content sections based on competitors' content, but it may generate duplicate content and is not recommended for high-quality editorial processes. The Brief tab summarizes competitors and any notes you have added, which is useful for collaborating on content.
Surfer's content editor is available directly in Google Docs and WordPress' Gutenberg editor and as the Surfer SEO extension, which is helpful for those who use these tools for editorial processes. Moreover, Surfer integrates with tools like Jasper AI, making it user-friendly for a variety of editorial processes. You can edit which competitors, content structures, terms, topics, and questions Surfer considers when making suggestions, enabling you to avoid over-optimization.

| Pros | Cons |
| --- | --- |
| Surfer SEO's content editor improves on-page optimization | Suggestions may include irrelevant elements |
| Easy to use with a rich text interface | In-text usage suggestions may be grammatically incorrect |
| Provides comprehensive content suggestions | Outline builder may generate duplicate content |
| Offers unique keyword recommendations | Outline builder not recommended for high-quality editorial processes |
| Tracks keyword usage and provides alerts | |
| Integrates with Google Docs and WordPress | |
| Integrates with other tools like Jasper AI | |
| Customizable suggestions to avoid over-optimization | |
Surfer SEO SERP's analytics – The good, the bad and the ugly
The SERP analyzer tool is an essential tool of Surfer, maybe one of the best AI tools for SEO that provides a detailed breakdown of the search engine results pages (SERPs) for a given keyword. The module helps in finding the correlation between the SERP results' positions and the on-page factors. To begin, you need to enter the target keyword for analysis. For instance, if you want to analyze the SERP for the keyword "Best AI Tools for SEO," enter the keyword, and the Surfer SERP analyzer fetches the data, displaying various details.
Let's have a look at the metrics that are provided by Surfer SEO SERP's Analytics
Average word count (the content length for the keyword)
Keywords density and the term frequency
Usage of the long tail and partial match keyword
Questions related to the keyword
Page Speed
Time To First Byte
Structured data
Hidden Content
No links pointing to the top-ranking competitors
Meta-title, meta descriptions, image alt tags,
Search visibility — for URLs and domains
Backlinks — for domains and URLs.
| Pros | Cons |
| --- | --- |
| Provides a detailed breakdown of the SERPs for a given keyword | Can be overwhelming to deal with so much data |
| Helps find the correlation between the SERP results' positions and on-page factors | Some of the data it offers is not useful for all users, nor does it contribute to rankings or better on-page SEO optimization |
| Offers useful data metrics such as average word count or content length of ranking pages and number of H2 tags used in ranking pages | Contains data on hidden content on a page, which doesn't have anything to do with on-page or rankings (such as comments) |
| Provides backlinks data, such as how many links the first page results have, which can be used to optimize existing content | Contains more data than other on-page SEO tools, which may not be necessary for some users |
| Gives detailed data and insights for all on-page factors for a given keyword and ranking pages | Some aspects are not listed in the text, so users may need to explore the tool to find all the available features |
Overall, the Surfer SERP analyzer has many useful features that can help users improve their on-page SEO optimization and better understand the correlation between SERP results and on-page factors. However, some users may find the amount of data overwhelming, and not all of the data offered may be useful for all users. Additionally, the tool contains more data than other on-page SEO tools, which may not be necessary for some users.
Is Surfer SEO good for keyword research? Let's review it's keyword analytics tool:
Surfer's Keyword Research Module is like any other keyword research tool. Just enter a phrase or seed keyword, and it'll show you related suggestions and details.
The module's new feature, SERP similarity, helps you see how your seed keyword overlaps with other suggestions. It's useful for optimizing your content for similar long-tail variations to improve visibility.
However, the downside is that there's no keyword difficulty score available, so you can't decide which keyword to go for based on its difficulty.
Surfer also offers a handy Keyword Extension for Chrome to check keywords and get useful metrics. It's a great tool for bloggers, startups, and small businesses.

Surfer SEO content planner – the Ultimate Artificial intelligence SEO tool you will need in 2023:
Surfer SEO's Content Planner is a powerful tool that helps you rank for competitive keywords. It suggests cluster topics for your main topic, and you can use filters to refine the list based on intent, keyword, search volume, and content score.
You can also connect your domain to get more relevant keyword ideas from Google Search Console. It's a helpful feature that can be used for topic clusters, and you can export the keywords to a CSV file.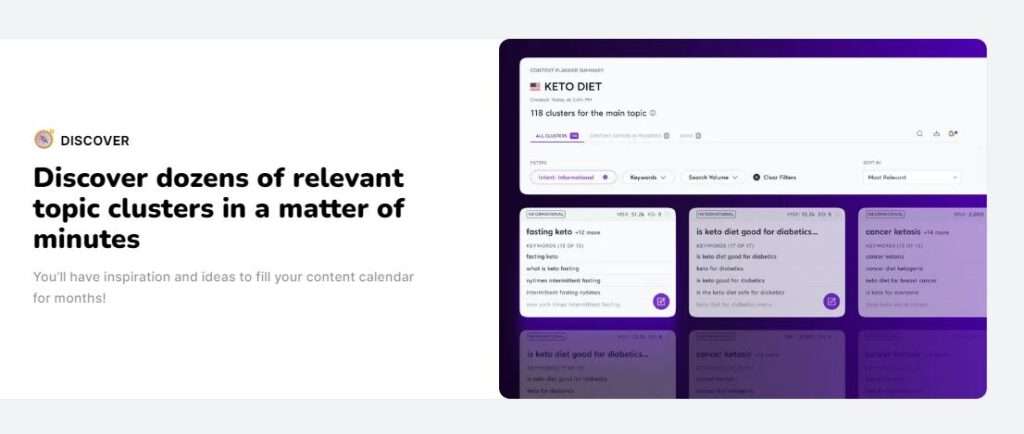 Surfer SEO Review: Revamp your content with Surfer's powerful Audit Tool
The Surfer SEO Audit tool is a valuable feature for optimizing existing pages on your website or blog. By simply entering the URL you wish to optimize and the target keyword, and choosing a country to optimize for, the audit tool will provide a detailed analysis of the URL you entered. This analysis includes LSI keywords and phrases you're missing, word count for overall content, headings, and bolded words, suggestions on enough headings and images, page load time, and time to the first byte, meta title and meta description suggestions.
It's important to note that while the tool provides helpful suggestions for optimization, it's essential to consider search intent and solve user intent with your content. That being said, the audit feature can be used to cover gaps in ranking factors such as missing backlinks, LSI keywords, page load time, missing data points, and meta title and description suggestions.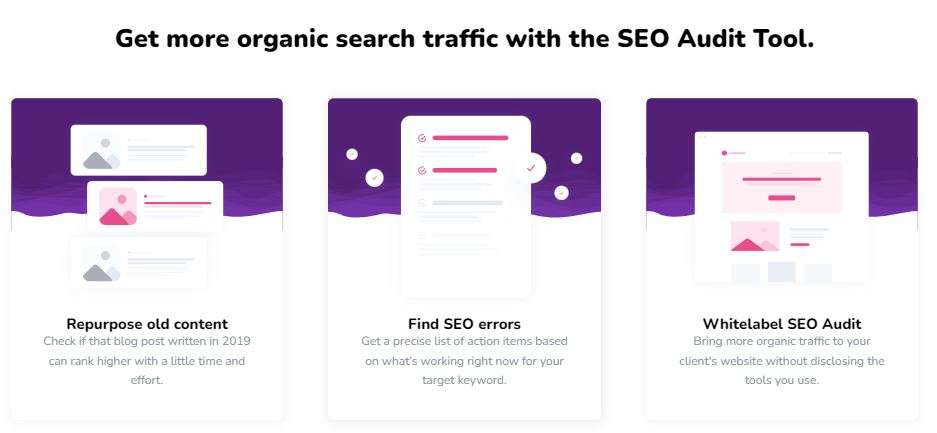 Step by Step guide on how to use the Surfer SEO Audit tool:
Enter URL and target keyword
Choose target country (usually US) and click "Create audit"
The tool provides detailed analysis of the URL, including LSI keywords and phrases, word count for overall content, headings, and bolded words, suggested ranges, suggestions on headings and images, page load time, time to the first byte, meta title and meta description suggestions
PRO Tips: Consider search intent when following suggestions and use the audit feature to fill in gaps such as missing backlinks, LSI keywords, and meta data
Who is Surfer SEO best for:
Website owners looking to improve their site's visibility and engagement
Marketers and SEO specialists looking to optimize website content
Content creators seeking to improve their content's search engine ranking
Anyone who wants to ensure their website is meeting search engine optimization best practices
PRO Tip: Surfer SEO creates Plagiarism Free content to avoid any potential penalties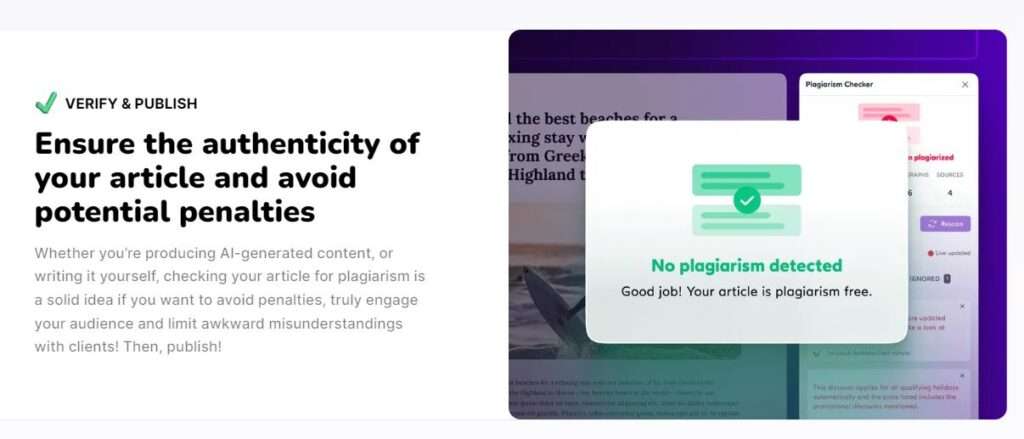 Surfer SEO Academy & Facebook Group
Surfer SEO not only provides a comprehensive SEO tool but also offers a range of educational resources to help users improve their knowledge and skills in SEO. The Surfer Academy is a platform where users can access various materials such as video tutorials, webinars, and articles to enhance their understanding of SEO and how to best utilize Surfer's tools. The academy covers various topics from keyword research to content optimization and advanced SEO strategies. With Surfer Academy and the support of the dedicated Facebook Group, users can take their SEO game to the next level and achieve their ranking goals.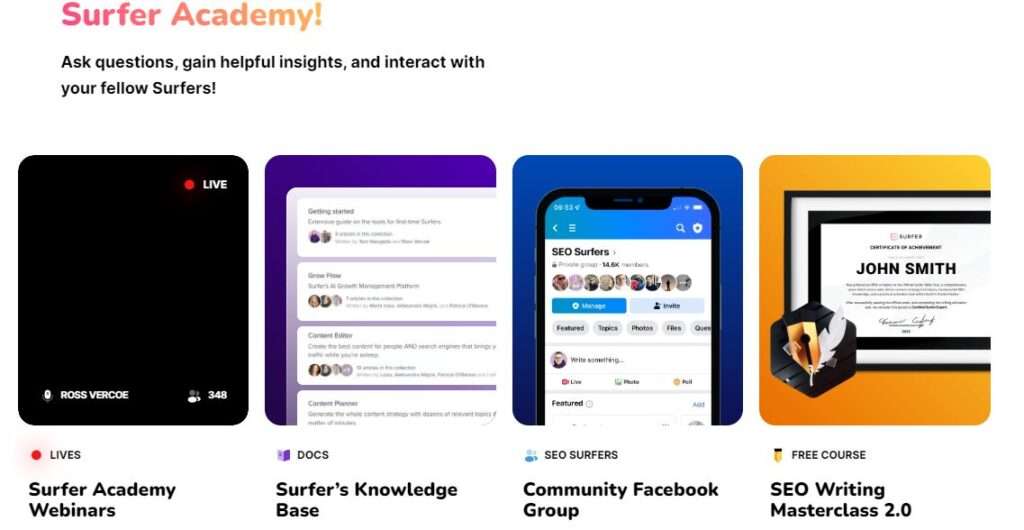 Our conclusion after Surfer SEO review: A true Game-Changing Tool for Boosting Your Website's Visibility
In conclusion, Surfer SEO's audit tool is a powerful solution for optimizing website content and improving search engine ranking. By providing in-depth analysis and recommendations, Surfer SEO helps website owners, digital marketers, and content creators ensure their content is meeting SEO best practices and resonating with their audience. With its ability to uncover hidden optimization opportunities and enhance content quality, Surfer SEO is a game-changing tool that can revolutionize your SEO strategy and drive organic traffic to your website.
If you are looking to learn more about AI Marketing and Automation or just keep yourself updated with the latest AI Tools for Social media, marketing or productivity, check our website or LinkedIn page.
F.A.Q. Section for Surfer SEO
How does Surfer SEO work?
Surfer helps optimize your pages and achieve your ranking goals. Its different tools analyze competitors for specific search terms and give suggestions based on their page analysis.
Can I use Surfer SEO for free?
Yes, Surfer SEO has a free plan with limited features. However, for access to all premium features and learn more about Surfer SEO pricing, check their official page here.
Which Surfer SEO pricing plan is best for freelance content writers?
The basic plan is ideal for freelance content writers as it offers 10 credits for the content editor every month. If you have higher requirements, the Pro plan is available.
What is NLP in SEO?
NLP, or Natural Language Processing, provides relevant words and phrases that Surfer suggests using in your content to show Google its relevance to your main keyword. This also helps rank higher on Google.
Can I increase my money-back guarantee?
Surfer offers a 7-day money-back guarantee, but you can email the support team to request an extension of up to 30 days.
Does Jasper AI work with Surfer SEO?
Jasper AI integrates with Surfer SEO, allowing you to use its AI-based algorithm to write SEO-optimized content in just a few minutes.