Take Your Writing to the Next Level with Jasper.ai: The AI Copywriting Tool Every Content Creator Should Use
Effortlessly Improve Your Writing with AI Copywriting Tools
Jasper.ai is an AI Copywriting tool that uses artificial intelligence (AI) and Natural Language Processing (NLP) to help users improve their writing. It offers a range of features and services designed to help users create better content, including grammar and style checking, content optimization, and more.
Jasper.ai is ideal for anyone who wants to improve their writing skills and create high-quality content quickly and easily. It's particularly useful for bloggers, marketers, and content creators who need to produce a lot of content on a regular basis. Check out the full range of features below!
Is Jasper the Internet's best AI Copywriting Tool?
Maximize the Benefits of Jasper AI – The Ultimate AI Content Writer for Your Business Needs
Improved communication: Jasper Ai's features, such as its natural language processing and tone and style suggestions, can help businesses improve their communication with customers, partners, and employees. By ensuring that messages are clear, professional, and appropriate for the intended audience, businesses can build stronger relationships and avoid misunderstandings.
Time savings: Writing high-quality content can be time-consuming, and many businesses struggle to keep up with the demand for new and engaging material. Jasper Ai's copywriting and content creation tools can help businesses save time by automating some of these tasks, allowing employees to focus on other important work.
Increased effectiveness: Jasper Ai's tools can help businesses create more effective marketing campaigns, sales materials, and customer support content. By analyzing data and providing insights into what types of content perform well, Jasper Ai can help businesses create more engaging and persuasive messages that drive results. This can lead to increased sales, higher customer satisfaction, and better overall business performance.
Jasper.ai is providing world class support and resources to master its AI Tools: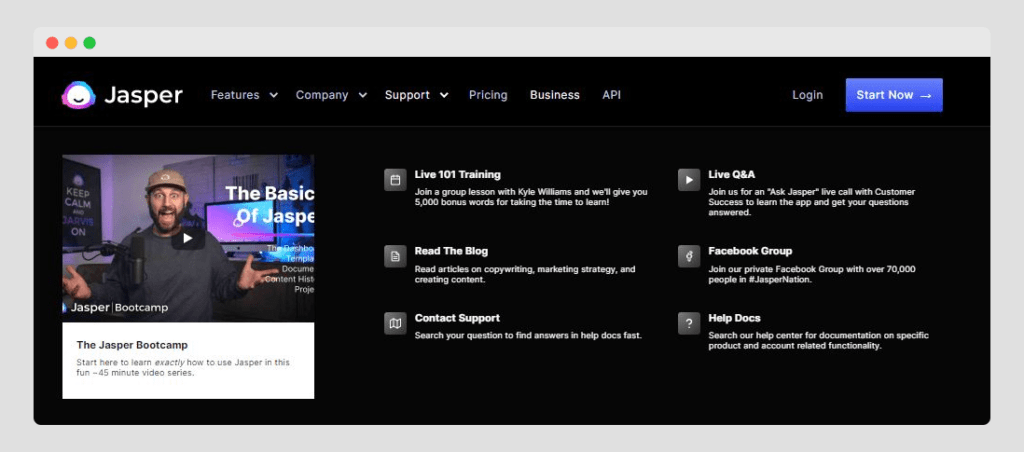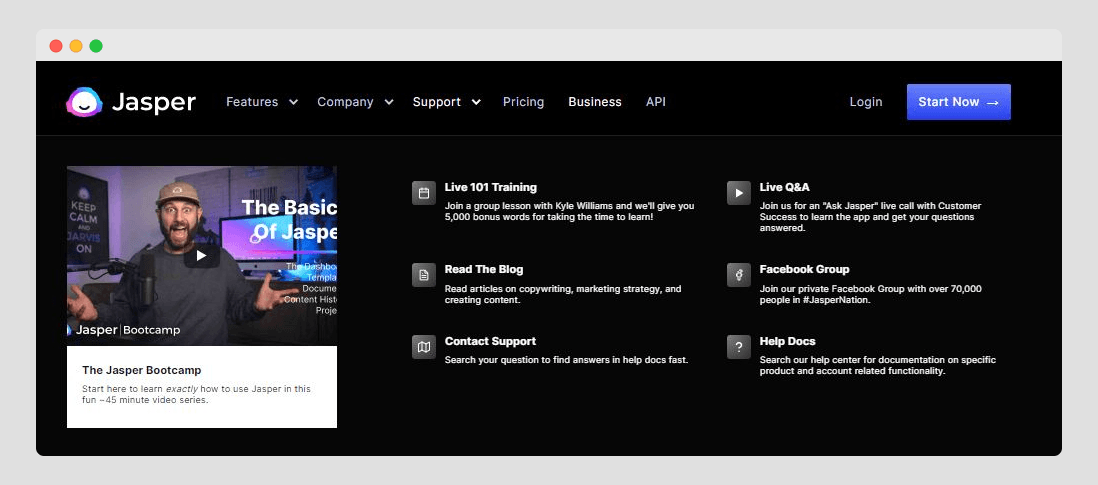 Jasper.ai offers a comprehensive customer support system, including Facebook groups, blogs, and YouTube training sessions known as Bootcamp. Customers can also access a Q&A section to get quick answers to their questions. With these resources, users can quickly learn how to use this AI copywriting tool effectively and get the most out of its many features.
The Facebook groups provide a forum for users to ask questions, share tips and tricks, and connect with other Jasper.ai users. The blogs offer in-depth tutorials, case studies, and industry news, helping users stay up-to-date with the latest developments in AI copywriting. The Bootcamp sessions are a series of online training videos that cover various aspects of the tool, from the basics to more advanced features.
Overall, Jasper.ai's customer support system is a valuable resource for users looking to improve their skills and get the most out of this powerful AI copywriting tool.
Is Jasper.ai a good AI Copywriting tool? Let's jump to conclusion:
Jasper.ai is a powerful editing and AI copywriting tool that can help users improve their writing skills and create high-quality content quickly and easily. Its range of features and personalization options make it ideal for bloggers, marketers, and content creators who need to produce a lot of content on a regular basis. While it may not be the cheapest option available, its ease of use and collaboration features make it a strong contender for those looking for a reliable and efficient writing tool.
Jasper.ai provides the free AI copywriting tool trial available for 5 days and/or 10.000 Credits for free copywriting generator feature, as well as other free copywriting tools.
For getting an overview of how to improve your AI Marketing Strategy, leverage the power of AI Marketing automation or just stay connected to latest artificial intelligence tools and news, follow our official page or LinkedIn Website.