Are you tired of staring at a blank page, struggling to come up with fresh and engaging content for your blog or website? Look no further than Writesonic, the AI copywriting tool that can help take your writing from boring to brilliant. In this article, we'll explore what Writesonic is, how it works, and the benefits of using it for your copywriting needs.
Writesonic is an AI-powered copywriting tool that helps businesses and individuals create compelling content for their websites, marketing materials on different platforms and much more. With Writesonic, you can generate high-quality copy in a matter of minutes, without the need for a dedicated copywriter or marketing team. We will discuss each feature in the article below.
What is an AI Copywriting tool and why I should use it?
An AI copywriting tool is a software that uses artificial intelligence to generate written content automatically. This technology uses machine learning algorithms to analyze data and generate text that mimics human writing. AI copywriting tools like Writesonic use natural language processing (NLP) to understand the context and intent of the writing, producing results that are accurate and engaging.
AI Copywriting tools are diverse and the output of each tool can be rather diverse. The output generated by an AI Copywriter will be greatly dependent on the input and instructions you are giving, which are called "prompts". To make things simpler, you can compare the prompts with the human to human communication: If you are sending your ideas across to another person in a clear manner, they will be able to understand you easier and respond according to the message.
How does Writesonic AI work?
Writesonic AI works by analyzing your input text and generating new content based on its understanding of the context and language. The software uses machine learning algorithms to generate a variety of written outputs, from product descriptions and blog posts to social media updates and email newsletters.
The templates are technically prompts that you don't have to formulate yourself in order to get the desired outcome. Just choose the purpose of the content, input the topic, keywords, tone of voice preferred and wait for the magic to happen.
Pro Tip: As Artificial Intelligence and Machine Learning is continuously improving, you might still need to edit the outputs to perfectly fit your purpose and communication direction.
Benefits of using Writesonic for copywriting
Time and cost savings through automated writing process
High-quality content generation in a fraction of the time compared to human copywriters
Improved writing quality with suggestions and insights
Enhanced scalability of content production, allowing creation of more content in less time.
Examples of text generated by Writesonic
Let's take a look at some examples of Writesonic copywriting in action. Say you're a small business owner looking to create a product description for your e-commerce store. You might input the following text into Writesonic Content Rephraser Tool:
"Introducing our new line of handcrafted leather bags. Each bag is made from premium leather and features unique, one-of-a-kind designs that are sure to turn heads. Perfect for the fashion-forward individual who wants to make a statement with their accessories."
Writesonic might then generate the following product description:
"Our handcrafted leather bags are the perfect accessory for any fashion-forward individual. Made from premium leather, our bags feature unique, one-of-a-kind designs that are sure to turn heads. Whether you're dressing up for a night out or running errands around town, our bags are the perfect statement piece to complete your look."
How to get started with Writesonic writing AI tool:
The interface is very user friendly, well balanced colors and straight to the point:
Step 1: Get Started
Step 2: Input your full name and Email
Step 3: Sign Up with OTP or Password
Step 4: Start writing
The best part: It offers a generous 10.000 Words free trial without a credit card required.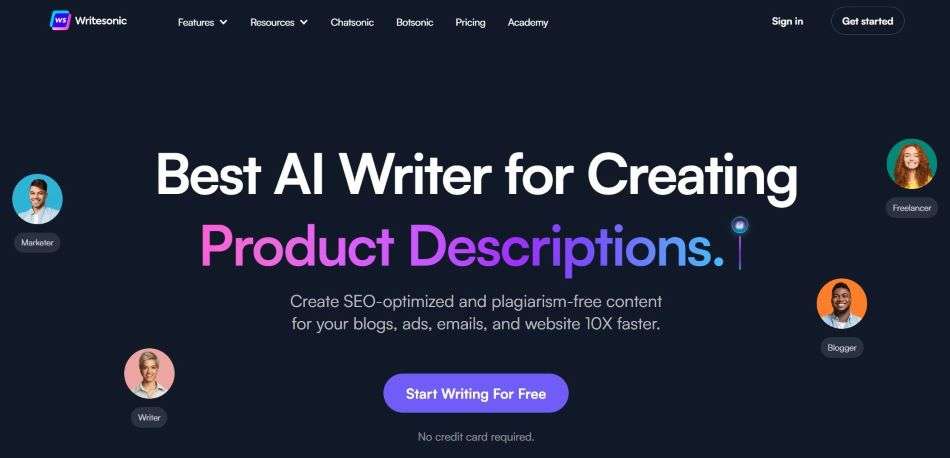 Advanced features of Writesonic AI
Writesonic is probably one of the most complex and comprehensive AI Copywriting tools in terms of templates and use cases for content creation with a high level of focus on business practical usage.
Create your own custom templates for specific types of content, such as social media updates for Facebook, LinkedIn or Instagram.
Content optimization: Optimize your content for search engines and social media platforms by using keywords and other optimization techniques through its integration with Surfer SEO
Text expander and Paraphrasing tools to elaborate on content and fit it for your intended purpose
YouTube and Product descriptions for E Commerce.
Long form content for Blogs: Use Article Creator 4.0 to input your topic and selected keywords
Article Creator 5.0 to input blog posts from other websites which will be analyzed and the output will be a better version, factual correct (if the input article is correct) and SEO optimized.
BotSonic – Create and train your own chatbot assistant
ChatSonic – Like ChatGPT but better
Digital Image generator – Create stunning digital art and visuals to go alongside with your content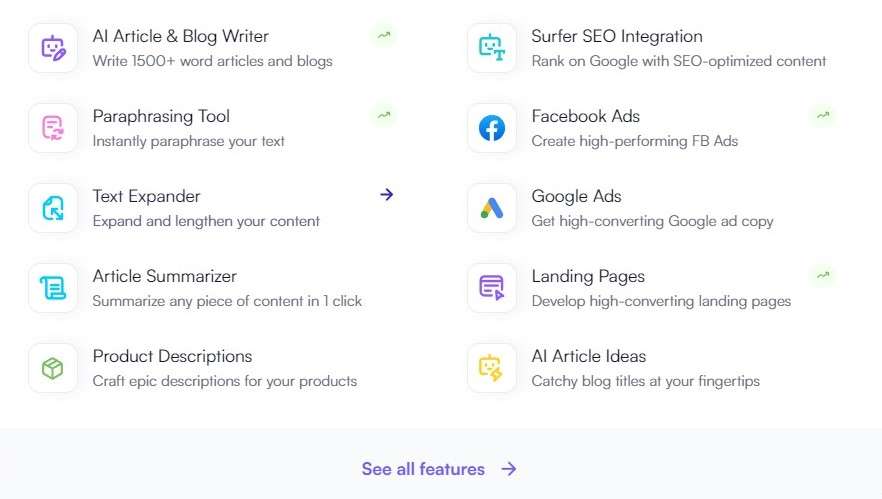 Writesonic vs. human copywriting
One of the biggest advantages of using Writesonic over human copywriting is the speed and efficiency of the tool. While a human copywriter might take several hours or even days to produce a single piece of content, Writesonic can generate high-quality copy in a matter of minutes. Additionally, Writesonic can help you scale your content production, allowing you to create more content in less time.
However, there are some areas where human copywriting still reigns supreme. For example, human copywriters are better able to understand the nuances of language and context, producing content that is more nuanced and personalized than what an AI tool can produce.
Pricing and plans of Writesonic
Writesonic offers several pricing plans to fit your needs and budget and is based on its capabilities of output: Premium vs Superior
Premium: the outputs are based on the GPT-3.5 Language model – Quantity over quality
Superior: the outputs are based on the GPT-4 and GPT-4 32K Language models: Superior quality
Free Trial: 10.000 Words (Premium) vs 5.000 Words (Superior) with over 100 Templates in 25+ languages
Pro – Starting from 12.67$ / Month: 100.000 words (Premium) vs 33.334 words (Superior) including Surfer SEO integration, factual and personalized article writer as well as API access
Enterprise: Contact sales
Conclusion
If you're looking to elevate your writing skills and produce high-quality content in less time, look no further than Writesonic. With its AI-powered copywriting tool, you can generate compelling content for your website, marketing materials, and more, all without the need for a dedicated copywriter or marketing team. Plus, with its range of advanced features and customizable templates, you can take your writing skills to the next level. So why wait? Sign up for Writesonic today and start writing brilliant content that will engage and inspire your audience.
Writesonic alternative – What other options are out there?
As Machine Learning was one of the first forms of artificial intelligence to be developed and released in mainstream, the range of copywriting tools is quite diverse with each tool having advantages, disadvantages and limitations based on the ideal usage. Let's look at few Writesonic alternatives:
Autoblogging.ai
Functionality/Tools:

8.1

/10
Pricing:
Starts at - $19/month.
Model - Pay per Articles.
Pros
Easy to use
Uses complex prompts to generate articles, and keep well seo optimized structure
Can be a huge time saver for content site owners
WordPress integration
Cons
Does not work well with all topics, and has specific format
Content is structured for product sales/reviews mainly
Need to double check the articles for unrelated/false information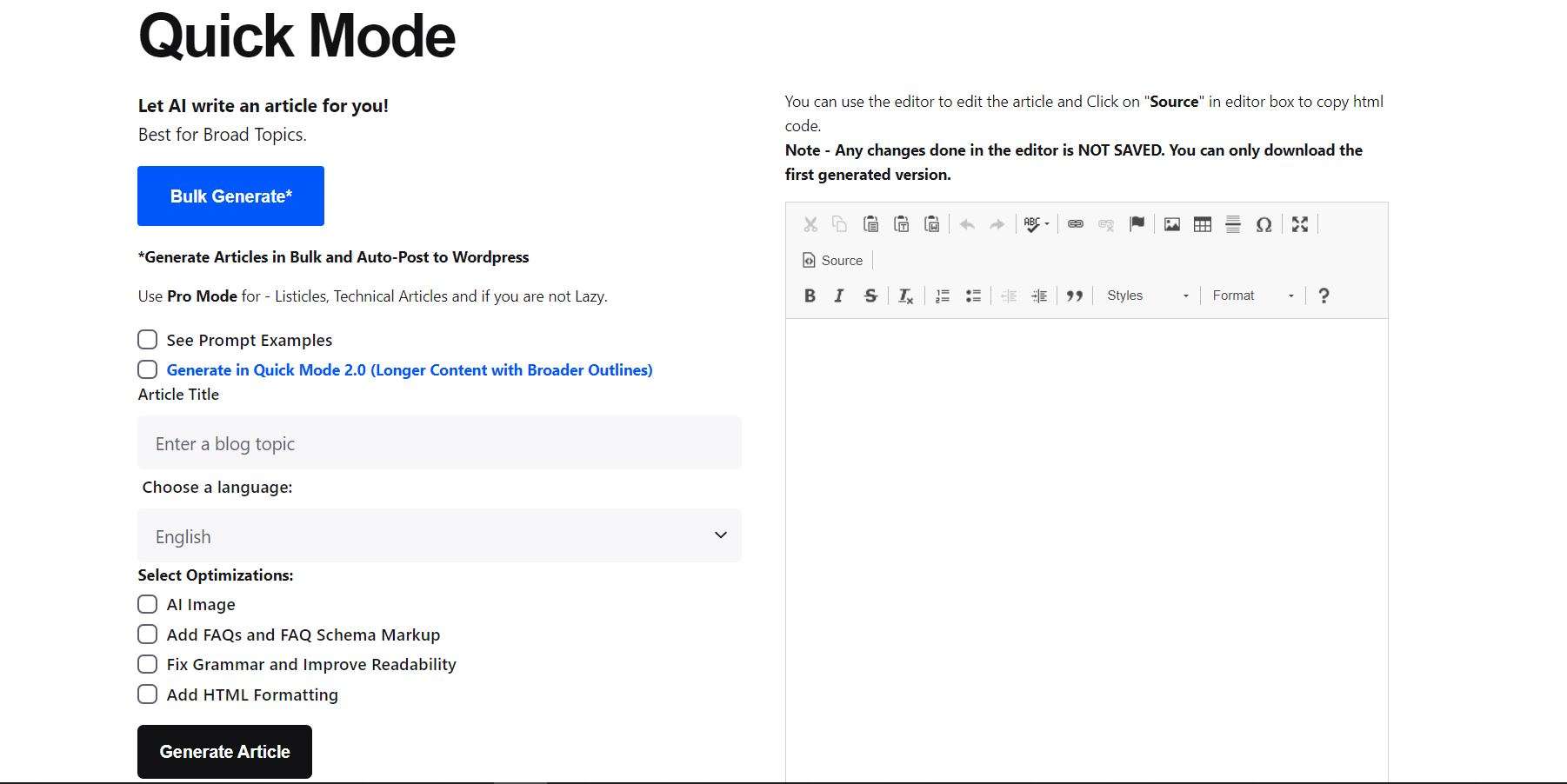 Autobloggin.ai Quick mode
Best Features Of Autoblogging.ai
Fast and SEO-optimized content generation: Autoblogging.ai can generate well-structured and SEO-optimized articles in just a matter of seconds. Users can provide a title, their own outline, or even add a competitor link to generate the article quickly and easily.
Bulk article creation: Users can instantly create up to 10 articles at a time, streamlining the content creation process even further. It can also integrate with WordPress to allow for direct posting.
One-Click Amazon Product Review: Simplifing the process of creating product reviews for Amazon affiliates. By simply adding a product link, the tool can generate a review article in just one click.
Plagiarism checker: The tool offers a built-in plagiarism checker to ensure that all generated content is unique and original. This feature helps to avoid any potential issues with duplicate content and ensures that users can create high-quality articles that are safe for SEO.
Writesonic vs ChatGPT
The first AI tool that took the internet by storm and proved will change the world forever was ChatGPT by OpenAI. It is the fastest growing platform in the history of the internet (to date). Most of AI Copywriting tools are based on the same technology as ChatGPT, namely GPT-3.5 and GPT-4.
When it comes to choosing between WriteSonic and ChatGPT, it ultimately depends on your specific needs. If you're looking for a tool that can help you create marketing copy, blog posts, or other forms of content quickly and easily, WriteSonic may be the better option. However, if you need a more versatile tool that can generate responses in real-time or create unique content based on specific prompts, ChatGPT may be the way to go.
In conclusion, both WriteSonic and ChatGPT are valuable tools that can help users generate high-quality content quickly and efficiently. Whether you choose one over the other will depend on your individual needs and preferences. But one thing is certain – with these AI-powered writing tools at your disposal, creating compelling content has never been easier.
If you would like to stay updated to the latest AI Tools and Future Trends across the Artificial Intelligence field, follow our blog post or official Tech Pilot LinkedIn Page. Learn more about the applications of AI technology in business and how to leverage AI tools to increase your ROI.